About us
Welcome to
Palmerston North PartsWorld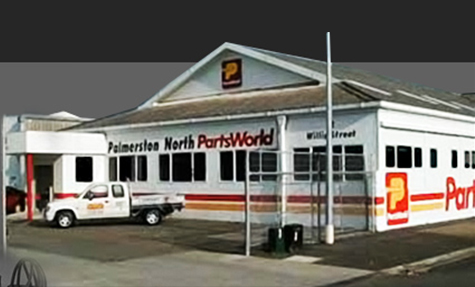 Palmerston North PartsWorld is a family run business that was started in 1976 by Roger and Lynette Denton. The company started as a Tow and salvage company Palmerston north tow service that wrecked vehicles as a side line , As the dismantling side of the business grew the towing operation was separated and in 1982 Palmerston North Auto Wreckers was born. It quickly became one of New Zealands leading dismantling operations and was one of the first yards to import used parts into New Zealand with Roger and Lynn going to the United Kingdom in 1986 and filling containers of used auto parts. With the event of Japanese import vehicles coming into the New Zealand Market in the late 80s the company moved with the times importing parts from Japan as well as dismantling domestic vehicles.
The early 90's brought new challenges and a group of progressive dismantlers from all over New Zealand got together to see how "Auto wreckers" could market themselves as a cohesive brand and shed the "Car Wrecker" identity. PartsWorld as a brand was born and Palmerston North PartsWorld is a founding member of the group. The PartsWorld brand along with membership criteria ensures that you will get the Right Parts, Right Service, Right Price when trading with any branch in the PartsWorld network of dismantlers.
Palmerston North PartsWorld was always a General Dismantler, dismantling all makes and importing parts from Japan for the growing Japanese import market, As the company moved into the new millennium it was becoming harder to supply the rang of parts for the growing number of vehicle makes on New Zealand roads, so again having to change with the times the decision was made to become a dismantler that specialised in 3 brands of vehicle. Mitsubishi Honda and Subaru were chosen as they were high volume used Japanese imported vehicles with strong New Zealand new vehicle sales and dealerships.
As always markets change and with the introduction of internet based insurance quoting platforms for the collision repair industry and workshops we found that doing 3 brands was getting harder. We could not remain price competitive and have the inventory levels needed to complete bigger orders, so again we had to move with the times. After some market research Mitsubishi was chosen as the sole brand of product we would do. This has been a decision that has had it's challenges but as we have moved forward we have now become one of the largest suppliers of Mitsubishi parts in New Zealand. We have an extensive inventory of recycled parts. We dismantle over 250 Mitsubishi Vehicles every year and have moved into selling New Genuine Imported Mitsubishi parts as well as aftermarket and reconditioned. Our aim is to have a part in stock to suit your budget.
We have had a lot of parts for different makes of vehicles over the years and it has been a lot of fun doing business with people all over New Zealand and the world, but there is one thing that we have always put first and that is the customer. If you are not happy with the part we have supplied, or you have suggestion on how we could do things better please let us know.
Thank you for taking time to use our web site and I hope you have found the part you are looking for.
Regards
Mark Denton
Owner – Operator